See What We`re Learning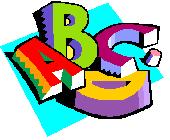 We are working on Unit 5, Shadows and Reflections. We will explore shadows and reflections using observation, experiments, books, songs and art. Other skills for unit 5 are listening for beginning sounds, recognizing letters and numbers, counting objects, patterns and rhyming. We are continuing to recognize number through 10 and counting objects to 30 and have covered Aa-Rr. Please check your child's folder each day and review these skills. Learning the alphabet is so very important in learning to read! We are still working on writing names and continuing to work on following rules, routines, listening and following directions.
*Remember to check your child's folder each day and remove their papers.